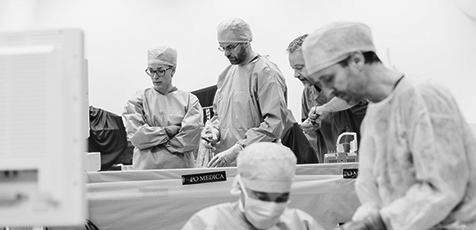 THE THIRD ADVANCED TEMPORAL BONE COURSE SPARSÖR, SWEDEN, NOVEMBER 27-28, 2018
This hands-on course addresses younger otosurgeons and includes all tympanoplastic and mastoid procedures including obliteration technique, ossiculoplasties (autologous bone, titanum prosthesis), stapes surgery and hearing implantation (BAHD, middle ear Implants, CI). The surgical techniques will be demonstrated and practised under supervision of skilled clinical teachers. The temporal bone lab is designed for 15 delegates. All participants will have their own complete equipped workbench with drill, microscope and surgical instruments. The course language is English.
The education center in Sparsör is located near Borås, 45 minutes from the Gothenburg Airport "Landvetter".
The course fee 1300 Euro – 13 000 SEK + VAT includes 2 fresh frozen temporal bones, course literature, lunches, coffee/tea, reception, course dinner and bus transfers from the hotel in Borås to the education center. The costs for the hotel accommodation are not included.
The course will be held with 10 participants or more. Register as soon as possible to be sure of your reservation. Deadline for registration is October the 27th, 2018.
Cancellation policy: 300 Euro fee for notices received more than 60 days in advance. Notices received less than 60 days prior to course forfeit total fees paid. Refunds/Credits will not be issued for failure to attend course in part or in whole.
For further information concerning the course content please contact Course director MD PhD, Lennart Edfeldt
lennart.edfeldt@telia.com
or for application form, travelling etc.
Pia Hjert, Course Secretary
pia.hjert@po-medica.se
Tel: +46 33 266800
Preliminary program
TUESDAY NOVEMBER 27TH, 2018
| | |
| --- | --- |
| 09.00-09.15 | Introduction |
| 09.15-10.00 | Preoperative management |
| 10.00-10.45 | Myringoplasty (K), Ossiculoplast (LE), Stapes surgery (KS), lecture |
| 10.45-11.00 | Kurz® presentation |
| 11.00-12.00 | Demo - hands on |
| 12.00-13.00 | Lunch |
| 13.00-17.30 | Demo - hands on |
| 18.00- | Course dinner |
WEDNESDAY NOVEMBER 28TH, 2018
| | |
| --- | --- |
| 08.00-08.45 | Indication and Implantation of Bone conduction and Middle Ear Devices, Cochlear implant |
| 08.45-09.00 | Med El presentation |
| 09.00-12.00 | Demo - hands on |
| 12.00-13.00 | Lunch |
| 13.00-13.30 | Cholesteatoma lecture |
| 13.45-14.00 | Innoforce presentation |
| 14.00-17.00 | Demo - hands on |
Course Director

Lennart Edfeldt, MD PhD
, Sweden


Invited Faculty

Karin Strömbäck, MD PhD
, Sweden